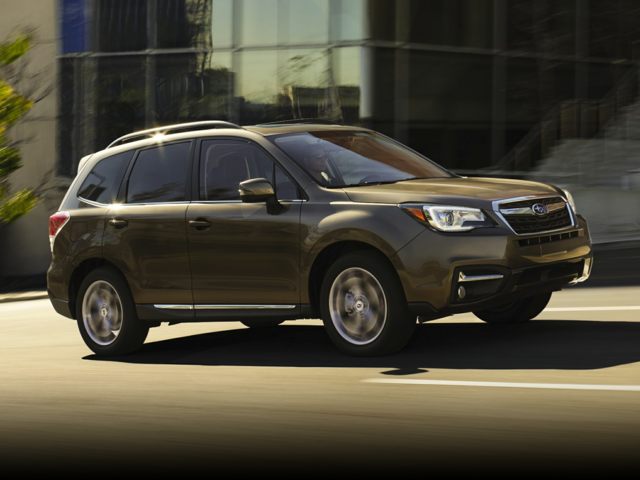 Which SUV has More to Offer Florida: The 2018 Subaru Forester or the 2018 Ford Escape?
You're searching around for an all-new SUV, which means that you need a lot more than can be found in the average sedan. You have a lot more important cargo to consider, your family, so you need an SUV that will keep them safe while, at the same time, saving you money in the long run with its resilience and efficiency. Fortunately, Subaru and Ford both make some excellent SUVs to satisfy the many needs of the average driver from Wesley Chapel. However, when it comes to two of their more well-known SUVs, the Subaru Forester and the Ford Escape, which one has more to offer you and your family where safety, efficiency, and overall value are concerned? We here at Reeves Subaru of Tampa want you to have the best resources we can provide for you in doing your research so let's take a look at these two SUVs and see which one has the advantage in what areas.
The 2018 Subaru Forester vs The 2018 Ford Escape: A Closer Look
Performance
The Subaru Forester is at the greater advantage in all three areas, even if it is only slightly. In terms of their power output, the Forester generates: 
174 pound-feet of engine torque
170 horsepower with its inline four-cylinder (I4) engine
Ford Escape generates: 
170 pound-feet and 
168 horsepower with its I4 engine
The drive line of the Subaru Forester is where this SUV has the greater advantage, given that it runs on the
Subaru Symmetrical All-Wheel Drive System
, which works to intelligently direct engine power output to the wheels with the most traction. The standard drive line of the Ford escape is front-wheel drive which is easier and cheaper to manufacture, but is considerably less-effective in harsher road conditions than all-wheel drive. Driving to Wesley Chapel or Brandon, FL on a rougher road requires a lot more dynamic control than front-wheel drive can offer.
Transmission
When it comes to transmission, it's up to you to decide who has the greater advantage. The I4 engine in the base trim of the Subaru Forester is paired with a six-speed manual transmission with continuously variable automatic transmission being available in other trim levels. Meanwhile the base trim of the Ford Escape comes standard with six-speed automatic transmission. If you are someone who knows how to drive stick, and you prefer the more controlled acceleration and fuel efficiency that manual transmission gives you, then you'll likely prefer the Subaru Forester.
Price and Value
Both of these SUVs are at equal advantage when it comes to their respective warranties: their basic warranties keep you covered for 36 months or 36,000 miles (whichever comes first) and their Rust Perforation Warranties keep you covered for 60 months with no mileage restrictions. 
However, the Subaru Forester is at a greater advantage when it comes to starting price as the base trim begins at $21,547. The Ford escape begins at $23,102 and received considerably lower ratings by consumers and experts of Kelley Blue Book in comparison to the Subaru Forester.


Safety
When it comes to the safety and security of your family, you definitely want the safest SUV you can find, which is where the Subaru Forester comes in. The Forester has received much higher accolades by the experts of the Insurance Institute for Highway Safety (IIHS) who chose this SUV for their prestigious 2018 Top Safety Pick List. An SUV makes this list when it receives high marks when tested for overall crashworthiness, front crash prevention and effectiveness of its headlights and the LATCH (Lower Anchors and Tethers for Children) System, to which the Subaru Forester received a mix of "Good," "Superior," and "Acceptable" ratings. Unfortunately, the Ford Escape was not chosen as a Top Safety Pick by IIHS and received "Basic," "Marginal," and "Poor" ratings in many important categories.
The Winner? The 2018 Subaru Forester
While the Ford Escape has a bit more to offer for those unfamiliar with standard transmission, the most important aspects of an SUV are where the Subaru Forester is at the greater advantage. When it comes to providing an all-around safer and more secure driving experience for you and your family, at a lower price, the Subaru Forester has you covered. So, come test drive one here at Reeves Subaru of Tampa and see all that this SUV can do for you! We're located at 11111 North Florida Avenue in Tampa, Florida, just 20 minutes away from Land O' Lakes. See you soon!