The 2021 Subaru Love Promise Customer Commitment Award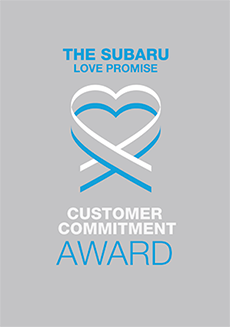 We've been nationally recognized for our dedication to our customers and the Subaru Love Promise.
We're honored to receive the 2021 Subaru Love Promise Customer Commitment Award. This award nationally recognizes Subaru retailers who demonstrate excellence in all areas of customer-focused performance. It highlights exceptional customer service that builds lifelong relationships with Subaru owners.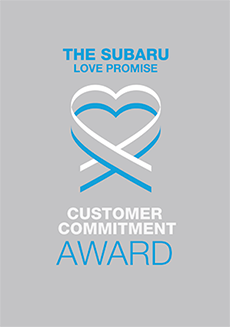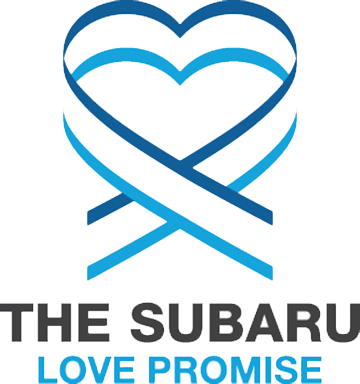 What is the Subaru Love Promise?
Subaru and our retailers believe in making the world a better place and the Subaru Love Promise is our vision of respecting all people. This is our commitment to show love and respect to our customers and to work to make a positive impact in the world.
How is Reeves Subaru of Tampa dedicated locally to the Love Promise?
Our Love Promise can be seen in various partnerships with local charities and non-profits. We're grateful for the opportunity, not only to be a part of our community, but to serve it as well.
Hillsborough County Pet Resource Center
Florida Cancer Specialists & Research Institute
Love Promise Stories from Reeves Subaru of Tampa
Subaru and Reeves Subaru of Tampa believe in making a positive impact on the communities in which we live and work. We uphold that belief through our Love Promise Community Commitment. Every month, we select inspiring stories from customers and partners from around our area who strive to support our collective commitment and feature them here
THANK YOU Reeves Subaru - Kristin M
Our friends over at Reeves Subaru presented Meals On Wheels of Tampa with a check from the Subaru Share the Love Event. This generous donation will provide over 2,900 meals that will enable our senior and homebound neighbors to continue living nourished lives in their own homes! Thank you Reeves Subaru and Subaru of America, Inc. for committing to leaving the world a better place #SubaruShareTheLove
---
Reeves Reunites at FCS FOR 2019 Blanket Delivery - Niki M
On July 26th the Suncoast Chapter and Reeves Subaru has the pleasure of delivering 80 blankets to Florida Cancer Specialists in Tampa as part of the Subaru Loves to Care program. These comforting gifts were accompanied by personalized messages of hope written by the customers and staff of Reeves Subaru. The delivery group was able to personally deliver blankets to patients in the chemo room. This was not only impactful but eye opening as it gave everyone a true glimpse in the "day to day" of living with cancer. The group as grateful to provide extra warmth and hope through this delivery. This incredible act of generosity was warmly received by the Florida Cancer Specialist staff who were thrilled to distribute these comforting gifts to their patients. LLS is proud to partner with Subaru to spread hope, love and warmth to those fighting cancer, across the country and right here in the Tampa Florida community. Many thanks to everyone at Reeves Subaru and Florida Cancer Specialists, not only for a memorable day, but for supporting LLS's mission to cure blood cancers and improve the quality of life of patients and their families.
---
Blanket Delivery at Florida Cancer Specialists - Reeves S
The Reeves Subaru staff was thankful for the opportunity to give back to our community by delivering #SubaruLovestoCare blankets with our friends at The Leukemia & Lymphoma Society - Suncoast Chapter. The blankets were delivered with Messages of Hope, written by the Reeves Subaru staff and customers, to patients at Florida Cancer Specialists & Research Institute receiving cancer treatment. We want to thank everyone who stopped by our showroom to write a Message of Hope for those battling cancer - you helped to brighten someone's day today. ¿
---
Reeves Subaru of Tampa & AAAS - Reeves S
During the month of August, Subaru of America, Inc. and participating retailers teamed up with AAAS - The American Association for the Advancement of Science to donate over 75,000 award-winning science books, along with new school supplies, to K-12 schools across the country as part of the #SubaruLovesLearning campaign. We want to thank YOU, our Reeves Subaru customers, for helping us fuel the next generation of innovators - because of you, we were able to donate supplies and over 100 books in your name to the students at Miles Elementary.
---
Reeves Subaru of Tampa & Meals on Wheels - Reeves S
Reeves Subaru of Tampa is a happy volunteer & partner of Meals on Wheels of Tampa! Our mission is to nourish, enrich and strengthen the lives of our homebound and senior community by delivering meals weekly.
---
Southeastern Guide Dogs - Reeves S
Reeves Subaru of Tampa became a proud sponsor of Southeastern Guide Dogs!
---
Reeves Subaru Brings Warmth & Wishes to Patients - Brandy K
On Thursday, June 14, 2018 the Suncoast Chapter of The Leukemia & Lymphoma Society and Reeves Subaru staff delivered 80 blankets to patients at Florida Cancer Specialists & Research Institute's Tampa Cancer Center as they checked in and waited for their treatments in the waiting area and received their transfusions in the treatment center. Christopher George, MD, and Matthew A. Fink, MD, took the time to deliver blankets to their patients in the waiting area prior to their appointments.The patients loved the warm blankets and sweet messages of hope on the care cards filled out by the customers as Reeves Subaru. The messages included sayings such as "You Are Stronger Than You Think" and "If You can Dream It, You Can Do It". We are so grateful to have been a part of this delivery to spread warmth and hope to patients as they receive their treatment!
---
Sharing the love with Meals On Wheels of Tampa - Shana T
Jennifer Kober, Pisandro Moncion and Scott Roderick of Reeves Subaru are ideal partners to Meals On Wheels of Tampa. The have become one of our favorite Adopt-A-Route partners. The team is consistent, reliable, fun and most importantly, our homehound meal program recipients adore them. The Reeves Subaru Team doesn't think twice about going above and beyond for our mission. Whether they are posting about Meals On Wheels and sharing our message on social media or helping a recipient mend a fence, they continuously exude a genuine sense of giving back. They always have time to share a smile and have a friendly conversation. Reeves Subaru shares the love 24/7 and we are so grateful.
---
Subaru and the Birds - Mary K
I bought my first Subaru because I wanted something that would take me through our soft Florida sand or slick mud when I was out chasing birds. Now I'm on my second, my brother (also a birder), my nephew, and several members of our Audubon group, all drive Subarus. On one Christmas Bird Count there were 5 Subarus in our caravan! So, when we started a local birding and nature Festival, who better to ask to be a sponsor than my local Subaru dealership? Not only did they come through as a sponsor, they sent several reps to the Expo. Not only did they send people, they sent several demo cars. Not only did they send cars, they allowed us, wanted us, to drive one out on our field trips! So off we went in a brand new Subaru to see the birds! We even linked the eBird app from my phone to the navigation screen on the new Outback. My passengers to and from the field trips were super-impressed, with the ride and comfort, with the handling of the car, the capacity for carrying spotting scopes and field guides, and with that bird-savvy navigation system. I don't know if anyone bought a car on the spot, but there were plenty of questions well after the festival about my car and my dealership. I'm still driving off-road chasing birds, and haven't been stuck yet. The car has a few more scratches, but the dealership team keeps it running great. So I'll be sticking to Subarus for many more years, and birds, and birding festivals to come! Thanks, Subaru! And happy birding!
---
Second Subaru Crosstrek.....#love - Madeline C
I would like to thank Scott Roderick who sold me my second Subaru Crosstrek, Hans Lindau who processed my loan paperwork, and Pisandro who personally visited me during my purchase to answer any questions and to make sure that I was completely satisfied with my purchase. You should be pleased that you have associates who care as much about customer satisfaction as these 3 men do! I could not be happier with my second Subaru purchase from Reeves Subaru than I am. I feel that Scott continually goes out of his way to make sure that his customers are satisfied. He also follows up to make sure that I didn't have any questions or concerns even after the purchase. Reeves Subaru should fell grateful that they have such competent and caring associates working for them. I would recommend Reeves Subaru to anyone I know who is considering purchasing a new or used vehicle.
---
Reeves Subaru Delivers Blankets to Cancer Patients - Sherri S
The Leukemia & Lymphoma Society was proud to Partner with Reeves Subaru for the Subaru Loves to Care program. Reeves Subaru, led by Kim Rogers and her team delivered 80 care blankets and 10 craft kits to cancer patients at Florida Cancer Specialists in Tampa. Their patients loved the outpouring of support from Reeves Subaru and their customers!
---
Stuff the Subaru for a local food pantry. - Stephanie N
Reeves joined me at our neighborhood work on wellness festival last Saturday. They brought out a car, table, and the works. We were stuffing the Subaru for a local food pantry. My Subarus are old, so they don't have the same effect as a nice shiny new car. They helped me man the tent and brought goodies for my neighbors. The local pantry has two crates. When we dropped off the food we were able to fill one and half fill the second one. This event would not have been as successful without the help from Reeves.
---
Reves Subaru & their customers give back to ACT - Animal Coalition o
Reeves Subaru is proud to present a check in the amount of $13,076 to Animal Coalition of Tampa. We want to thank all of our Subaru Share the Love Event clients for making this donation to ACT possible. This check will help to provide pet owners in the Tampa community with affordable spay &a neuter services and low-cost vaccinations. Thank you! Thank you! #GiveDay #GiveDayTampa #SubaruLovesPets #ShareTheLove
---
Subaru Loves the Earth - E Waste Event - Danielle S
We would like to thank our customers for participating in our E Waste Recycling event during the month of April. With your help, we were able to prevent 4,623 lbs of carbon emissions from polluting the atmosphere. This is equivalent to saving 177 trees, 786 gallons of gasoline, 6,702 plastic bottles, and 30,825 aluminum cans. Thank you for helping strengthen the Subaru Love Promise!
---
Reeves Subaru gives back to local animal shelter - Pisandro M
In April 2014 the Animal Coalition of Tampa's(ACT) facility was the victim of arson. To assist this hometown charity is finding another facility and/ or making the necessary repairs to their current facility, Reeves Subaru hosted numerous events to help raise money for ACT. Those events included the 'More to Love Event ",where they donated $2,000 to ACT. Also They held another event called Giving Tuesday- a global day dedicated to giving back. In celebration of this special day, they were proud to sponsor Animal Coalition of Tampa in their showroom to help raise donations so they can continue to do the good work they do for the cats and dogs in our community. As a bonus, Reeves Subaru donated $50 to ACT for each person who took a test drive during Animal Coalitions visit from 10am-2pm.
---
April 1-30, 2015 E-Waste Recycling Event - Molly M
Throughout the month of April, we are hosting an E-Waste Recycling Event in our store to collect unwanted electronics. We've arranged to work with a company who will responsibly collect, re-purpose, and recycle your electronic waste. Help us protect our environment. Just show up with your E-Waste and we'll do the rest! The first 50 customers who contribute will receive a complementary environmental badge of ownership. We will accept: LCD Monitors, Cell Phones, Laptops, Tablets, CRTs up to 40", Video Games/Consoles, Fax Machines, DVD/VCR Players, Printers, Computer Peripherals, Switches/Routers, Cords and Wires.
---